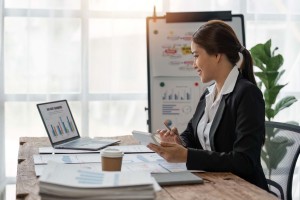 The Value Of Professional Credibility As A Bookkeeper
In the world of finance, trust and reliability are two vital components.
Clients will seek out professionals who possess the knowledge, skills, and ethical conduct necessary to handle their finances with precision.
This is where professional credibility plays a pivotal role.
For bookkeepers in New Zealand, establishing and maintaining a strong sense of credibility is not only essential for success but also a key driver of your long term growth and client satisfaction.
So, what is professional credibility and how do you build it as a bookkeeper? Read on to find out all about it.
What Is Professional Credibility?
Credibility is vital in any profession, but it can be particularly important as a bookkeeper. For many businesses, handing over the daily control of their finances to another person requires a huge degree of trust. Having good credibility can make the transition a lot easier.
Credibility means that something or someone is reliable, trustworthy and believable. It is the perception that someone has of a business or individual regarding their ability to accurately deliver results to a certain standard and be competent while doing so.
In a professional setting, credibility plays a vital role in establishing trust, influencing people's opinions of your business, and helping them to make informed decisions. When you are known to be credible, you are considered knowledgeable, honest and dependable.
As you can see, credibility is going to be a vital tool in your bookkeeping toolbelt! So, how do you build this professional credibility? Read on to find out.
7 Ways To Build Professional Credibility
1: Membership to a Professional Body
Probably the number one way to create credibility is to become a member of a professional body that is recognised by the Inland Revenue. As a bookkeeper, the best option is the Institute of Certified NZ Bookkeepers (ICNZB). Why?
Well, becoming a certified member of the ICNZB demonstrates to your clients that you have proven knowledge and expertise in your field by passing our membership assessments. It shows you are very competent, at a standard set by a professional body. Plus it shows you are committed to your own development and that you uphold the ethical values of NZ bookkeepers.
If you would like to take this valuable step in your bookkeeping career, you can find more information on ICNZB membership here.
2: Have High Standards
Remember that everything you do is a reflection of your business. So, it's good to have high standards in all areas of your business. Yes, that means ensuring accuracy in your work and meeting the necessary deadlines, but it also means providing high quality communication and customer service.
If your clients have an all-round positive experience when working with you, then you will continue to build an excellent professional reputation. That will help to encourage referrals and repeat business from your existing clients as they will have confidence that you will do a good job for them and their connections.
3: Ask for Testimonials
Testimonials are a powerful way to demonstrate your expertise and skill. In today's modern world, good reviews are like little nuggets of gold. That's because everyone researches before they buy anything. If potential clients find positive comments and recommendations when they research your bookkeeping business, then they will be encouraged to work with you to experience the same great service and results.
4: Gain Experience
This suggestion will take a while to gain traction, but it will be worth it in the long run. That's because practical experience is invaluable for building credibility. You should seek opportunities to work in various industries and gain exposure to different types of businesses. If you can accumulate experience in areas like Xero or MYOB, financial reporting, tax compliance, and payroll, then you can offer your clients a wide range of skills or choose to specialise in a particular area of bookkeeping.
Regardless of which path you decide to take, your valuable experience will provide credibility. So, make sure you document and highlight that experience in your professional profiles and CV.
5: Keep Learning
As a bookkeeper, it's important to stay up to date with the latest developments in your industry. That means changes in accounting practice, tax laws, or IRD regulations, but it also means staying on top of best practices and the latest technology and automation advancements.
Attend relevant seminars, workshops or webinars to expand your knowledge and skill. A great place to discover professional development opportunities is on the ICNZB events page. We offer a range of meetups, webinars and events that can further your knowledge and our annual conference is the bookkeeping event of the year!
6: Build a Professional Network
Cultivating professional relationships with other experts in your industry will help you to build a network of trust. Networking can lead to referrals, collaborative opportunities, and exposure to different perspectives and experiences; all vital for building credibility.
You can make these connections at our ICNZB events, in your local community, in online business groups, or in formal networking organisations.
7: Gain Client Confidence
There are plenty of things that you can do to prove to your clients that they are right to have confidence in your bookkeeping business. By upholding high ethical standards in your work, you can maintain client confidentiality, practice integrity and adhere to professional codes of conduct.
By becoming proficient in cloud-based accounting systems, you prove to your clients that you can handle any aspect of their financial management. It also demonstrates that you take professionalism and data security seriously, and that you are prepared to work alongside your clients' accountants via technology.
Building professional credibility is something that will take time and effort, but it is also something that you can build at any stage in your bookkeeping career. Whether you are just starting out or trying to grow the reputation of your existing business, credibility will help you do it.
A great place to start is the ICNZB. As we mentioned earlier, membership in our professional body can help your business in many ways. Check out more information about becoming a member here.